Comments and Helpful Reviews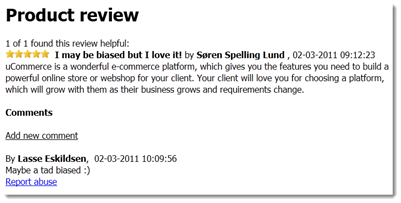 To further improve the value of having product reviews on a webshop you can open up for comments on existing reviews. The simplest form of commenting on a review is to indicate whether or not it was helpful, but the customer can go ahead and add a text comment as well to further explain her position or ask questions of the reviewer to get the conversation going.
Customer Information
As you can see in the previous screenshots information above the customer adding content is added to the review or comment. Customers are integrated with site members so you're effectively free to add as much additional information to the customer profile and by extension the reviews themselves.
Optionally you can require the customer to log in before being able to comment as is the case on Amazon.com or just leave the floodgates open and let anyone comment if they provide an e-mail, which leads us to the next topic: Reporting Abuse.