Product Reviews
Ucommerce enables customers to add product reviews on individual products and submit them either directly to the site or, if enabled, for approval by store managers. Product reviews consists of a rating, a review headline, and a review body.
If a customer is logged in the review can optionally be associated with that particular customer, which will make the reviews even more effective by letting you display information about the reviewer such as the first name. More on that later.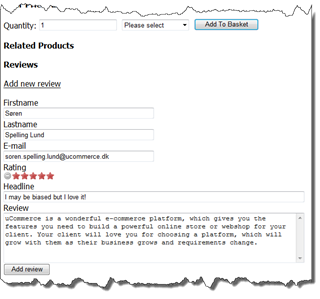 Because Ucommerce supports multiple stores and languages each product review is associated with the store in which it was received, which makes it possible to display just the reviews received in a particular store.
Of course you'll want to get as much review bang for your buck so more often than not reviews will be displayed from all stores, but you do have a choice.